Playing poker is all about reading the table and knowing when to play a hand, when to fold and when to call it quits. Some players misread the situation, or simply push themselves too far into a game, going all in only to be ejected with nothing to show for it. Over the years there have been several players who have bet big and lost everything. Let's take a look at some famous instances and see if there are any lessons to be learned from their lapse of judgement.
Erick Lindgren
He's the winner of not one but two WSOP bracelets – one in 2008 when he was also crowned WSOP Player of the Year and the second in 2013. In between those two achievements, he married another poker player, Erica Schoenberg, and by 2014 his total live tournament winnings were nearly $10 million. Then, this fairytale life came crashing down.
It started on the ominous Black Friday of 15 April 2011, when the US Department of Justice started handing out indictments to online gambling sites that it said were acting against the Unlawful Internet Gambling Enforcement Act (UIGEA) – including PokerStars, Absolute Poker and Full Tilt Poker. The companies stopped trading immediately and as the face of Full Tilt Poker, Lindgren lost a sizeable paycheck.
Sadly for such a talented poker star, Lindgren loved betting on sports and ran up debts he could not afford. It's believed he had been given loans by Full Tilt Poker prior to 2011 to cover the debts, which he never paid back. Shortly after his divorce, Lindgren filed for bankruptcy in 2015, with debts of more than $10 million.
Thuan B. "Scotty" Nguyen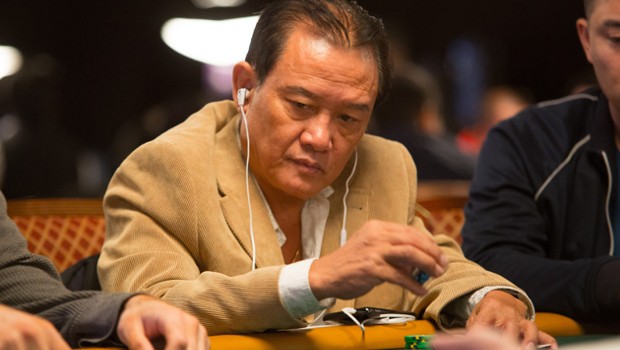 Scotty's story is another fall from grace, one starring the owner of five WSOP bracelets. The Vietnamese poker pro rose from poverty, born during the Vietnam War. He was sent to safety in Taiwan and emigrated to America at 14 after finding a sponsor. He already had a taste for poker and was expelled from school after spending time in illegal poker games.
Rather than simply play, Scotty learned how to become a dealer, handing out cards during the day and then playing them by night. His skills improved enough that by the 1980s he was playing and living in Caesars Palace. But his drug and alcohol addictions sent him on a self-destructive path that saw him lose everything he'd won. Speaking about his early career in 2014, Scotty said:
"I was naive, whatever you call it, too confident. Thought I could beat everybody, which I did, in poker I beat everybody. Not the casino, they broke me. That was a long time ago when I got introduced to being famous. Fame. They introduce you to all kinds of things, nice limousines, women, drugs, you know baby?"
Luckily, he managed to overcome his demons to win several tournaments. Yet it was not his achievements, but his emotions and often untoward playing style that cemented him in people's minds as one of poker's greatest characters.
Stu Ungar
Stu's tale echoes Scotty's, but with a bleaker ending. He died in 1998 at the age of 45 alone in a Vegas hotel. He's often regarded as one of the best live poker players of all time, before the age of online tournaments. He won the WSOP Main Event three times, ironic since he only turned to poker when no one would play him at his first game of choice: Gin Rummy. He dropped out of school to play, winning huge amounts, only to bet it all away.
He had to flee New York due to his gambling debts, moving to Miami and later Las Vegas. He was the youngest player to win the WSOP Main Event in 1980, repeating the feat the following year. His turbulent lifestyle fuelled by cocaine propelled him on a rollercoaster through the next two decades.
It would be 16 years between his second and third WSOP win, which earned him the title of Comeback Kid in 1997 after he came top of the 312 players in the tournament. The $1 million that he won along with the bracelet was soon spent on a mix of sports betting and drugs. 18 months later, he died. Sadly, he had only just signed a contract to finance future tournaments and clear his debts.